| | | |
| --- | --- | --- |
| Our Product Range | | |
Home
»
About Us
»
An Overview
» Santec at a Glance
Santec at a Glance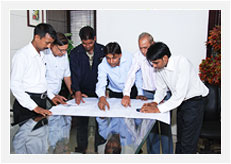 Santec has consolidated its position as a leading manufacturer, supplier and exporter of Industrial Presses from India. Established in 1999, the company has witnessed an incessant growth with increasing sales volume. It has made successful in-roads to the most competitive markets of countries like Europe, Africa, Columbia, Mexico, etc. Better capacity utilization, sustainable production and innovative engineering has made Santec a preferred partner in the Industry. The business specifics of Santec are as follows:
Business Type
Manufacturer, Supplier, Exporters
Year of Establishment
1999
Export Percentage
60.00%
Import Percentage
2.00%
Primary Competitive Advantages
- Best quality products and services at best prices
- Efficient and dedicated work force
Sales Volume
U.S. $ 2,90,000
No of Staff
125
Capital in Dollars
U.S. $ 15,00,000
No of Production Lines
3
Export Markets

35 countries across the globe:

- All Gulf Countries
- Africa
- Asia
- U.S.A.
- Europe
- U.K.
- Columbia
- Chille
- Mexico
Import Markets
Korea, Taiwan, China
Investment on Manufacturing Equipment
U.S. $ 2,20,000
OEM Service Provided
Yes
No of Engineers

No. of Skilled & Semiskilled workers
20

105
Monthly Production Capacity
10 to 20 machines every month
Memberships
- CII (Confederation of Indian Industries)
- AIRIA (All India Rubber Industries Association)
- EEPC (Engineering Export Promotion Council)
- Delhi Chamber of Commerce
Product Range
All kinds of scrap balers for both metallic and non metallic scrap i.e. turnings, plastic, carton boxes, paper, Drum Crsuhers , Empty cylinders crusher , Alumnium Can baling presses , Coir Fibre Baling Press , Fodder Baling Press , Carton boxes baling press , Custom build Scrap balers etc.

Hydraulic presses for all industrial applications i.e. deep drawing, Trimming , bending, shearing, punching, blanking, pressing, moulding,Straightening etc.

Compression molding presses, Lab Presses & Mills Vacuum Compression moulding presses Transfer moulding presses Rubber injection moulding presses SMC/DMC/FRP moulding presses Melamine/Composite materials / Bekallite moulding presses.

Rubber machinery i.e. dispersion kneader, rubber mixing mills, extruders, calander M/C, Rubber bale Cutters etc.

Hydraulic Cylinders/Jacks Swaging Machines, etc.